About Viewcom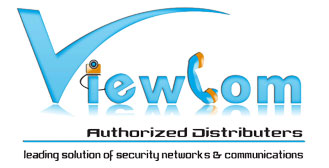 Viewcom was established in 1999 with an aim to serve in the field of Electronics , Network Security & Telecommunication Equipment. We today are the leading in Security Network Telecommunication in Pakistan. We became an authorized Distributor in Security , Networks & Telecommunication Systems. We are confident that we will be best service provider in Pakistan. viewcom products are the world best products. It provides you the latest proven established systems for your growing business. The Technology increases performance & efficiencies of your business at reasonable price but no compromise with Quality.
Our Vision
To attain recognition as a market leader for quality in our region emerge the proffered choice for all our clients and Employees, present and in the future. Our philosophy is to focus on long-term business rather that striking one off deals. We are proud that most of our business comes from repeated customers. We would also like to assure you that we are a reputable company in the local market as well as all over the Pakistan.
Mission Statement
"Viewcom" bring together expertise in the areas of PABX Fire Alarm System, CCTV, Time & Attendance Management, Payroll Management, Network Design,Biometrics, security systems, reliability engineering and product marketing.